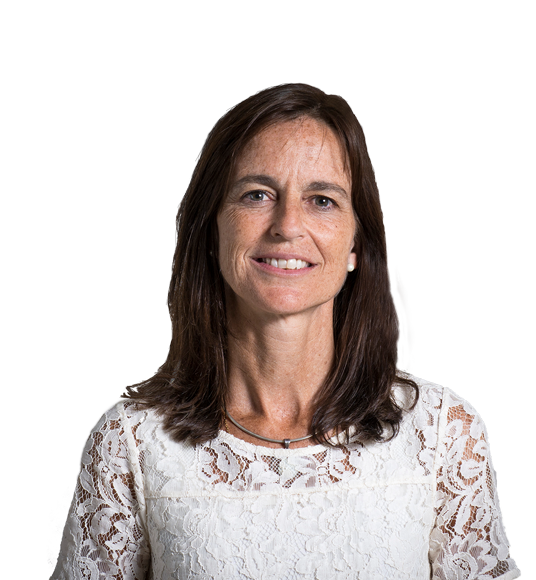 Virginia es profesora titular del área de Dirección Financiera. Actualmente se desempeña como Directora de Investigación y Desarrollo, y es Vicedecana y Miembro del Consejo de Dirección del IAE.
Obtuvo su PhD en Finanzas, en Columbia University, New York. Es Licenciada en Economía por la Universidad Nacional de Córdoba y realizó su posgrado en Economía en la Universidad Di Tella.
Atendió variados programas ejecutivos tales como Digital Transformation: platform strategies for success (MIT Management Executive Education), Oxford Fintech Program (Oxford University), Leadership for the 21st Century: Chaos, Conflict and Courage (Harvard Kenedy School), Global CEO for Latin America (IESE, Wharton and Ceibs), Management Development Program (IAE Business School), CPCL (Harvard Business School), entre otros.


Su campo de docencia e investigación son las finanzas corporativas -con particular foco en mercados emergentes-, finanzas para emprendedores, y Fintech.


Es co-directora del Observatorio Latinoamericano de Financiamiento Emprendedor (OLFE). Es profesora visitante en la Universidad de Montevideo, Uruguay y ha dado clases además en varias universidades de la Región.
Educación
PhD en Finanzas
Universidad de Columbia, New York
Posgrado en Economía
Universidad Di Tella
Licenciada en Economía
Universidad Nacional de Córdoba
Posiciones destacadas
Vicedecana del IAE Business School
IAE Business School, Desde 2016
Directora Académica - Miembro del Consejo de Dirección
IAE Business School, Desde 2022
Directora de Investigación - Miembro del Consejo de Dirección
IAE Business School, 2016-2021
Publicaciones académicas con referato
Conference proceedings
Accelerators, Entrepreneurial Self-Efficacy and Venture Capital: A Gender Perspective Model (2019)
Sarria Allende, V., Dams, C., Pasquini, R.,

Cornejo, M.; Robiolo, G.

, Academy of Management (AOM)

Academy of Management Proceedings, Vol. 2019, No. 1. (Abstract). https://journals.aom.org/doi/10.5465/AMBPP.2019.15673abstract

Tanchella: una herramienta para la recolección de datos de la Web. (2018)
Sarria Allende, V., Dams, C.,

Robiolo, G.; Pasquini, R.; Isoldi, J.; Stessens, K.; Salaberri, M.

, New York: Curran Associates

20th IberoAmerican Conference on Software Engineering (CIbSE 2017) Proceedings. 22-23 May 2017, Buenos Aires, Argentina, pp. 207

Accelerators, Networks and Venture Capital Financing (2016)
Sarria Allende, V., Dams, C., Pasquini, R.,

Robiolo, G.

, Academy of Management (AOM)

Academy of Management Proceedings, Vol. 2016, No. 1. (Abstract). https://journals.aom.org/doi/10.5465/ambpp.2016.11047abstract
Libros
Finanzas para la pequeña y la mediana empresa (2010)
Fraile, G., Preve, L., Sarria Allende, V., Temas, IAE Press

IAEPress, Editorial Temas

Working Capital Management (2010)
Preve, L., Sarria Allende, V., Oxford University Press

Financial Management Association Survey and Synthesis Series ,
Publicaciones profesionales
Estudio de la Industria de Capital Privado, Emprendedor y Semilla. 2016 - 1S2018 (2019)
Sarria Allende, V., Pasquini, R., Dams, C., Buenos Aires

Estudio OLFE en colaboración con EY; ARCAP - Asociación Argentina de Capital Privado, Emprendedor y Semilla

Overview of Seed Capital in Argentina (2018)
Sarria Allende, V., Pasquini, R., Dams, C., Buenos Aires

Newsletter ARCAP – Argentina´s Private Equity, Venture and Seed Capital, (2018), pp. 55-62. Estudio OLFE en colaboración con ARCAP - Asociación Argentina de Capital Privado, Emprendedor y Semilla
Casos
Alimentos Machala El proyecto Caribbean (2019)
Fraile, G., Sarria Allende, V., Buenos Aires: IAE Press

IAE-C118-06341-SP

Alimentos Machala S.A.: Una Propuesta Diferente (2019)
Fraile, G., Sarria Allende, V., Buenos Aires: IAE Press

IAE-C118-06398-SP

SportFar S.A. (2017)
Sarria Allende, V., Fraile, G.

IAE-C118-05887-SP

Evaluación de Opciones de Financiamiento para un Emprendimiento de Alto Impacto - Secure StartUp (2015)
Sarria Allende, V., Dams, C., IAE Press

IAE-C118-05359-SP

Distribuidora Redcar S.A. (2013)
Fraile, G., Paolini, F., Sarria Allende, V., IAE Press

IAE-C118-04357-SP

Tech-Noar (A y B) (2012)
Sarria Allende, V., Paolini, F., Slutzky, P., IAE Press

IAE-C118-03937-SP / IAE-C118-04517-SP

¿Una oportunidad para Perdigão? (2011)
Sarria Allende, V., García Sánchez, J., Preve, L., Slutzky, P., IAE Press

IAE-C118-03506-SP

Campo Unido S.A. (A); (B) (2011)
Sarria Allende, V., Slutzky, P., IAE Press

IAE-C118-03335-SP

Aeropuertos del Neuquén S.A. (A) "El Costo de Capital" (2010)
Sarria Allende, V., Preve, L., IAE Press

IAE-C118-02804-SP

Puente Hnos. S.A. (2010)
Sarria Allende, V., Slutzky, P., IAE Press

IAE-C118-03052-SP

Compresores Dielen S.A. (A) - (B) (2009)
Sarria Allende, V., Fraile, G., Paolini, F., IAE Press

IAE-C118-02619-SP
Notas técnicas
Financiando el Crecimiento en Entornos Inflacionarios. (2013)
Fraile, G., Sarria Allende, V., Paolini, F.

IAE-N118-04397-SP

Financiamiento a Emprendedores (2012)
Paolini, F., Sarria Allende, V., IAE Press

IAE-N206-05144-SP

Evaluación de Proyectos de Inversión: Una nota introductoria (2009)
Sarria Allende, V., Paolini, F.

IAE-N118-01743-SP
Materiales multimedia
Capital semilla en Satellogic (2015)
Sarria Allende, V., Dams, C.

Material multimedia - Videos disponibles en Campus Virtual